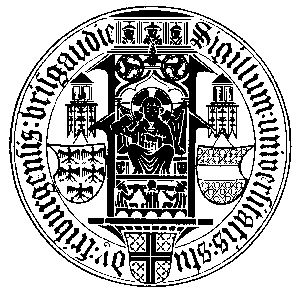 University of Freiburg logo
"F"
like... University of
F
reiburg is another German university in our university alphabet. Is a public research university located in Freiburg im Breisgau, Baden-Württemberg, Germany.
The university was founded in 1457 by the Habsburg dynasty as the second university in Austrian-Habsburg territory after the University of Vienna. Today, Freiburg is the fifth-oldest university in Germany, with a long tradition of teaching the humanities, social sciences and natural sciences.
University of Freiburg localization

The university is made up of 11 faculties and attracts students from across Germany as well as from over 120 other countries. Foreign students constitute about 16% of total student numbers.

Motto:
"Die Wahrheit wird euch frei machen" - "The Truth Will Set You free"
The University of Freiburg has been home to some of the greatest minds of the Western tradition, including such eminent figures as Hannah Arendt, Rudolf Carnap, David Daube, Johann Eck, Hans-Georg Gadamer, Friedrich Hayek, Martin Heidegger, Edmund Husserl, Friedrich Meinecke, and Max Weber. In addition, 19 Nobel laureates are affiliated with the University of Freiburg.
Kollegiengebäude II and central university square.
In university rankings published by German magazines and periodicals (Der Spiegel, Die Zeit, Focus, etc.) the University of Freiburg has established itself as one of Germany's top universities. According to the Webometrics ranking it occupies seventh place in Europe and 57 on the world.

Kollegiengebäude I, erected in 1913 as main building of the university.
University in numbers:


Established 1457
Type: public university
Endowment: 268,3 mio EUR p.a., Medical Center ca. 560 mio EUR p.a.
Admin. staff: 4,578 scientific staff (including Medical Center)
Students: 21,622
Association: EUA, IFPU, EUCOR, LERU